Direct Auto Insurance in Pell City

613 Martin Street North
9:00 AM
-
6:00 PM
9:00 AM
-
6:00 PM
9:00 AM
-
6:00 PM
9:00 AM
-
6:00 PM
9:00 AM
-
6:00 PM
10:00 AM
-
4:00 PM
Closed Today
Get Directions
Save Money on Car Insurance Today
BU2832@directauto.com
Hours
9:00 AM
-
6:00 PM
9:00 AM
-
6:00 PM
9:00 AM
-
6:00 PM
9:00 AM
-
6:00 PM
9:00 AM
-
6:00 PM
10:00 AM
-
4:00 PM
Closed Today
Hours
Day of the Week
Hours
Monday

9:00 AM

-

6:00 PM

Tuesday

9:00 AM

-

6:00 PM

Wednesday

9:00 AM

-

6:00 PM

Thursday

9:00 AM

-

6:00 PM

Friday

9:00 AM

-

6:00 PM

Saturday

10:00 AM

-

4:00 PM

Sunday
Closed

SAVE UP TO 25% ON AUTO INSURANCE
GET A FREE QUOTE
Learn About Our Products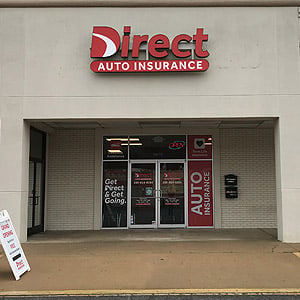 Learn About Our Products

Car Insurance
Get Car Insurance in Pell City, AL
Car Insurance Products
We offer various types of car insurance products that help protect you, your passengers, and your vehicle in the event of a car accident or other covered incident. Some of these coverages are mandatory, while others are optional depending on where you live and include:
Bodily injury liability coverage
Property damage liability coverage
Uninsured motorist coverage (UM)
Comprehensive insurance
Collision insurance
Medical payments
Personal injury protection (PIP) Get your free quote online, over the phone, or at a convenient Pell City store near you to see how much you could save.*
*Rates and savings, if any, will vary. Discounts and pay plans subject to terms and conditions and may not be available in all states. Cost may vary based on how you buy. Direct Auto branded policies produced by Direct Auto Insurance for affiliates in the National General Insurance Group, Winston-Salem, NC.

Term Life Insurance
Get Term Life Insurance in Pell City, AL
Term Life Insurance Products
What would happen if you, and your income, were no longer around to help make ends meet? If you don't have an answer, consider term life insurance. Direct Auto offers affordable term life insurance in Alabama to replace a loss of income, settle final medical and funeral expenses, pay for daily living expenses, like rent and groceries, or cover college tuition or related expenses.
For less than $1 a day†, you can count on the following term life benefits from Direct Auto:
Up to $25,000 of coverage
Flexible payment options
No medical examination - just answer a few simple health questions
No waiting - approval times are quick and often instant
Term life policies for you, your spouse, and your adult children*
Guaranteed renewal for two years at the same premium**
No additional down payment when bought with an auto policy from Direct Auto
An auto insurance discount when you by term life insurance and car insurance from Direct Auto*** If you're ready to see how Direct Auto can help you find peace of mind with a term life insurance policy, call or come in for a free quote or add term life insurance to your car insurance above.
† Per day amount based on annual premium for insured 18-50 years old with a $25,000 policy. Additional fee applies. *Written consent required of children 18 and older. **Policy terms and conditions apply.
***Multi-product discounts not available in all states and subject to terms and conditions. Individual term life insurance by Direct General Life Insurance Company, Nashville, TN. Policy Policy Nos: 58TL02010713, 12400 (OH), 12802 (WA) and in Michigan, by National Health Insurance Company, Policy No. 12815. Premium and other terms will vary by state, the insured's age, and the selected coverage.

Roadside Assistance
Get Roadside Assistance in Pell City, AL
Roadside Assistance Products
You never know when you'll get a flat tire, your car battery will call it quits, or the kids will accidentally lock the keys inside the car.
With Direct Auto, you can keep driving when you experience an unexpected roadside emergency by getting a roadside assistance plan added to your car insurance policy with us.
What does Roadside Assistance cover?
Emergency road service plans can vary from company to company. With Direct Auto, you can expect all of the following services when you're a member of our Roadside Assistance program.
24-Hour Emergency Towing
Gas & Essential Fluid Delivery
Lockout Service
Jump-Starts for Dead Batteries
Mechanical Help
Concierge Benefits Call or come by to get a roadside assistance plan added to your car insurance policy with us today!
*Roadside Assistance is not insurance. Administered through NationSafeDriver, Boca Raton, FL

Emergency Protection Plan
Get Emergency Protection Plan in Pell City, AL
Emergency Protection Plan Products
After a car accident, there are plenty of expenses you expect, like paying for vehicle repairs. But what about the bills you never saw coming, like having to pay for childcare while you spend time recovering in the hospital?
To help pay for these unexpected costs, Direct Auto offers Emergency Protection Plans*. While plan details and availability vary from state to state, this membership provides:
Hospital Stay Benefit: Cash paid directly to you for each day you're recovering in the hospital. Use this money to cover household bills, rent, childcare, or however you see fit.
Accident Medical Expense Reimbursement: Get reimbursed up to $1,000 for out-of-pocket medical expenses for things not covered by your auto insurance or health insurance.
Accidental Death & Dismemberment: Get up to $10,000 after a covered injury to ease your financial burden. In the event of death, this benefit will be paid to your loved ones to cover funeral costs and compensate for lost income.
Ambulance Assistance: Get up to $100 reimbursed if your accident requires a trip in an ambulance.
Mechanical First Aid: In the event of a breakdown, get reimbursed up to $25 for service calls or minor adjustments (tire and fluid delivery excluded, as well as parts) to your car that allow it to continue driving safely (battery jump-starts, drive belts fixed, etc.).
Rental Reimbursement & Lost Personal Effects Coverage: You could receive funds to help pay rental car expenses after an accident with another vehicle. Also get up to $300 to replace personal items if they are damaged in or stolen from the rental vehicle.
Trip planning services & travel discounts: In addition to help with after-accident expenses, emergency protection plans also offer these fun perks to enjoy throughout your membership period, not just when an accident occurs. If you want to see how an Emergency Protection Plan might protect you, call or come in for a free emergency protection plan quote, or add it to your car insurance quote online.
*Emergency Protection Plans are separate products that are not insurance and each is administered through NationSafeDriver, Boca Raton, FL. Auto protection plan not available in Missouri.
Reviews of Direct Auto Insurance in Pell City
Reviews coming soon
Affordable Car Insurance in Pell City
At Direct Auto Insurance, we work to provide auto insurance to drivers who may be considered high-risk or who may not be accepted by other insurance companies. To help you get going we offer car insurance discounts like good-student, multi-car and multi-product discounts. In addition, our representatives at 613 Martin Street North in Pell City can help you tailor your insurance coverage to meet AL driving laws. As your neighbors, our reps can also provide local discounts and promotions on AL life, motorcycle, commercial or other types of insurance. Call (205) 814-6264 or 877-GODIRECT or visit your nearest Pell City Direct Auto Insurance office today.
Why Direct Auto Insurance
Savings up to 25% on auto insurance with safe driving, multi-product, and other driver discounts.
Flexible payment options — decide when, how, and what you pay.
Access to your policy online with MyAccount, 24/7 claims service, roadside assistance, and more.
Nearby Direct Auto Insurance Locations
Your Insurance Questions Answered